 Amplify are Most Awarded Agency at The Drum Experience Awards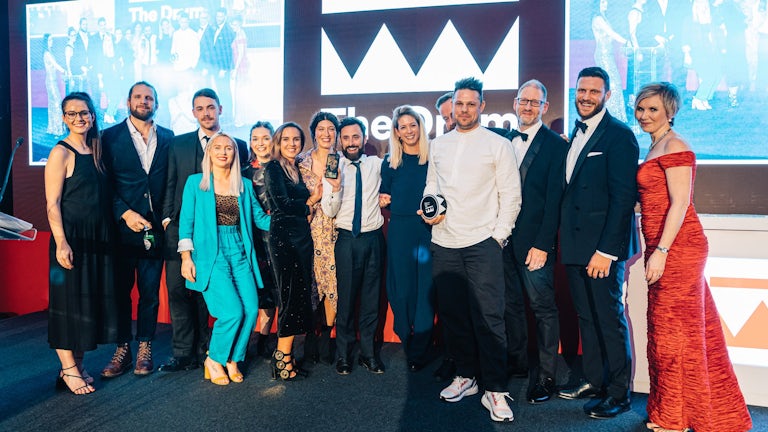 Amplify win Grand Prix + 8 more at The Drum Experience Awards...
Published on 4th December 2019.
"Amplify was founded as a 'home for creative people + clients'. Feeling chuffed, grateful and most of all proud of the team following last night's Drum's Brand Experience Awards... Amplify were the most awarded agency with 20 nominations across 14 categories, resulting in 5 high commendations and 8 wins including Brand Experience Agency of the Year, Event Team of the Year and the Grand Prix for Airbnb 'Night At...The Louvre'. Full results below. We know how lucky we are... Thanks to our amazing client collaborators for their trust, support and briefs. Shout out to our extended family of freelancers and agency collaborators who are very much part of the Amplify team."
– Jonathan Emmins, Founder
---
Amplify and Airbnb snapped up the Grand Prix as well as Brand Activation as Part of an Integrated Marketing Campaign of the Year, Innovative Experience of the Year and Digital/Social Experience of the Year for 'Night at the Louvre'.
Amplify were challenged to bring a unique partnership to life between Airbnb and the Louvre by connecting new audiences in France and across the world. The agency created a once in a lifetime experience with the pair, giving two lucky winners the opportunity to spend an evening exploring the French museum. Guests spent the night looking out from under the Louvre's pyramid.
Night At The Louvre proved to be Airbnb's most successful Night At… experience with Amplify's cinematic short film gaining 5.9m YouTube video completions and 2,700+ PR and broadcast hits across 90 countries.
Member of the jury, Sarah Baumann, managing director, London, Vayner Media said: "The Airbnb 'night at the Louvre' took our breath away on so many levels. From persevering and gaining access to the Louvre (not remotely easy), to the absolute exquisiteness of the execution through to the buzz and reach it created, it excelled on every level: "It was a best in class example of how a perfectly conceived experience can work with social media to help millions feel the AirBnB experience.
// Amplify
Winner: Brand Experience Agency of the Year (40+ people)
Winner: Event Team of the Year (40+ people)
---
// Airbnb - Night At... The Louvre
Winner: Grand Prix
Winner: Innovative Experience
Winner: Digital + Social Experience
Winner: Brand Activation as part of an Integrated Campaign
Highly Commended: Sponsorship Activation
Highly Commended: Event Production
---
// Google Pixel 3 - Curiosity Rooms
Winner: Retail Brand Activation
Winner: Product Launch / Relaunch
Highly Commended: Innovative Experience
Highly Commended: Culinary Experience
---
Highly Commended: New Event
---
Photo: dommartin.co.uk
See the article by Danielle Gibson here and the results here.
Brand Experience Agency of the Decade