How to make a launch legendary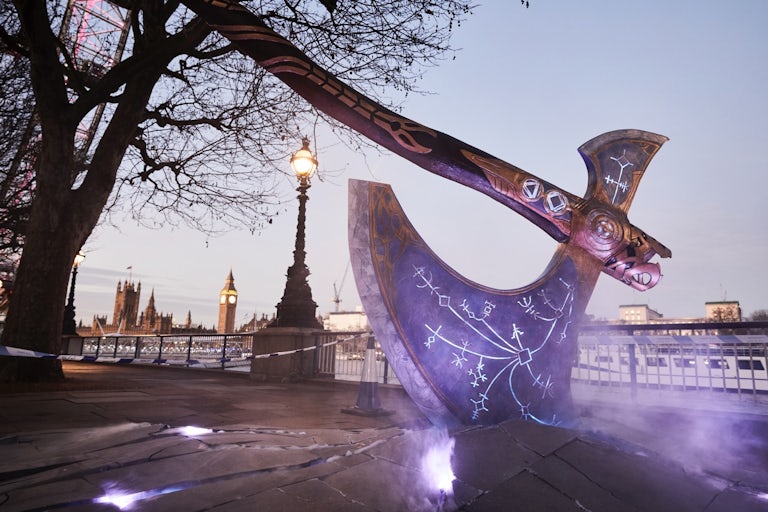 How do you avoid getting caught in the cultural chaos?
Whether you're launching a Hollywood blockbuster, a video game or a new product line, you need to make sure the ways in which you go to market capture the imaginations of the audiences your IP, product or brand were made for.
In an increasingly intersectional and overcrowded cultural landscape, where the stories you're trying to tell live or die by how steady their feet are stepping onto the social conveyor belt, it's harder than ever to stand out and avoid being dragged down by the cultural undertow.
For every Super Mario Bros Movie, there's an Indiana Jones 5. Every MSCHF 'Big Red Boot' has its corresponding hype collab gone wrong. It's not all about the quality of what you're trying to sell either. It's how well you cut through vs. the competition and how much your story, or at least a part of it, is worthy of your public's imagination.
If your brand has something big, or small, you need to make a splash, you need to do everything you can to tip the scales of social media justice in your favour and stave off a slippery slide into cultural insignificance. So what is the secret to success?
Life in plastic, it's fantastic
What does 'Barbeinheimer' mean for cultural launch moments?
It sounds like a German speed metal band, but it is in fact the unlikely collision of the world's favourite doll and history's most catastrophic act of military aggression. Fortuitously synchronised and insanely hyped, the upcoming release of Greta Gerwig's Barbie and Christopher Nolan's Oppenheimer has a strangle hold on social. With both films set to benefit from the meme frenzy that has whipped up around them, there are a few lessons we can take from the unique ways in which they, and others notable examples across culture, have found ways to inspire audiences and fuel the social hype cycle.
6 top tips to make your next launch campaign legendary
1. Keep your powder dry
Timing your teasers
The Barbie marketing machine is in full swing right now, but the hype has been built up carefully since we first got the news that Greta would be lending her talents to Mattel cinematic universe.
First, over a year before the film's eventual release, we had the shots of Margot and Ryan decked out in day-glo Lycra skating around Venice Beach. 6 months later, we had the Kubrick inspired teaser trailer. 3 months after that, the internet went to pieces over Margot's perfectly arched foot. Then the flood gates opened…
Travis Scott's Utopia opted for a more cryptic tease. Showing up to Cannes Film Festival in May with a mysterious brown briefcase. Scott then handed off the the case to a series of famous friends including The Weeknd, Bad Bunny and Mike Dean (the producer not the ref). The result was a collective guessing game amongst his fanbase, building a crescendo of conversation around what the album's collaborations might have in store, and ultimately when the record might drop.
The Oscar nominated The Whale – albeit perhaps not intentionally and not entirely positively – also stoked the flames of social buzz with the most minimal of marketing materials. Collectively mocked (or celebrated?) for the fact that every article, tweet or mention of the film was accompanied by the same, single frame of Brendan Fraser's central character, the film is a lesson in how, whether deliberate or unwittingly, you don't have to give the game away to get people excited about what you have to punt.
Releasing just enough to whet the appetite, and carefully feeding the hype, is a key facts of any legendary launch.
The legend of launches
The latest release in Nintendo's Zelda franchise, Tears of the Kingdom, was one launch that really capitalised on the power of scarcity and hype. With the first details of the game emerging six years prior to its release, they took the art of the drip feed to new extremes as they meticulously teased out small details that kept fanbases on tenter hooks without over saturating and subsequently losing their interest. Despite the long build up, the resulting snowball effect lead to fever pitch hype that propelled the game to the top of the charts.
9.7M

Views of @williamwannaw's tweet about the 'only frame in The Whale'
2. Worldbuild your way to a win
Connecting across culture
You'd be hard pressed to find a recent, successful launch moment with genuine cultural cut through that hasn't embraced world building as a means of unpacking, diversifying and disseminating their stories to reach and inspire audiences around the world. Barbie is a real outlier here. Powered by partnerships, Mattel and Warner Bros have opened up myriad avenues for people to step into the lurid, unapologetically plastic world of the franchise. From the limited edition Xbox to the real life Barbie Malibu dream house on AirBnB, they've gone hard on everything from licensing to live experience, offering their audiences multiple inroads to the hype, all unified by that patented pink.
The Super Mario Bros movie took up similar tactics, pulling on threads from the kaleidoscopic world created by Nintendo to entice newcomers and reward the die hards alike. They leaned into the power nostalgia has on both Millennials and Gen Z and rebooted The Mario Rap. They brought SMB plumbing into the real world, with a real hotline. They even made the moustachioed hero's shoes IRL in partnership with RedWing, before getting Klay Thompson to channel his inner jump man in them.
It doesn't have to all be about scale either. We could take a tiny little leaf out of Antman's book and create world building experiences like the Quantum Cafe with Uber Eats that are micro in scale but macro in the excitement and buzz they can generate by bringing IP into the real world in new and exciting ways.
Opening up moments of cultural crossover, utilising the full suite of channels and media available, and embracing the power of partnerships is a sure fire way of helping the conversation around your launch take flight.
$1.3B

The Super Mario Bros. Movie has surpassed 1.3 billion dollars worldwide, making it the 3rd highest grossing animated feature
3. Feed the meme machine
This Barbie is made for the hellsite
Amongst Barbie's massive arsenal of marketing tools is the inherent meme-ability of its IP and the simple ways in which they have embraced and encouraged the absorption of the film into the memeosphere. From memes born from clever copy like She's everything, he's just Ken to This Barbie is… selfie generators, Barbie has armed the social media mob with ample inspiration and tools to run riot.
Brands shouldn't be overly-sensitive about how the conversation plays out, or of relinquishing creative control to the masses. They should invite it. Trying to anchor down amidst the maelstrom will only end in tears.
Memeifying your brand is one way to infilitrate the feed, another is to craft a product or IP that is in its own right memeworthy. MSCHF, an American art collective built for the internet, did exactly that with their Big Red Boot at the start of 2023. Gracing the feet of everyone from Diplo to Janelle Monae, the Astro-Boy channeling footwear was nearly inescapable, generating endless press and giving birth to a tsunami of memes. Their most recent contribution to internet culture came in the form of the Microscopic LV bag for Pharrell. The reason? 'Because he loves big hats, we made him an incredibly small bag'
From an incredibly small bag to a ludicrously capacious one…
Tom Wambsgans, Succession's endlessly quotable one man meme machine, has given more than his fair share to the internet and, it turns out, to Burberry too. His scathing critique of their £2,500 handbag sparked a flurry of interest in the bag prompting a 310% spike in online searches. The brand were quick to react to this surge in popularity, swapping out their Regent Street flagship window to hero a lineup of the bags. Reactive, subtle and clued in to culture, it shows how brands can react to meme culture as much as promote it as a means to launching, or relaunching, their products.
310%

spike in online searches for Burberry's 'ludicrously capacious bag"
4. Reward your super fans
Activate your super fans' superpowers
If you're bringing something highly anticipated to market, or you have a solid community or fandom around your brand or product, you should start to think of ways you can activate them to get the word out there and market for you.
There are multiple ways of doing this, from planting easter eggs that spark treasure hunts and feverish conversations to larger scale experiences that cast fans as protagonists and reward them with agency in your brand world. Picking the right course of action all starts with understanding the nuance and niches of their fandom.
If they're a community that meticulously deconstruct every detail, a play like the secret multi-edit rollout of Across the Spiderverse or the Skrull cameos on ABC for Secret Invasion could be the way to go, validating and reinforcing the IYKYK and prompting show off sharing on social.
You could offer your fans a mysterious and inviting way of connecting with their favourite talent, like the recent J Hus billboards, an apparently vandalised black canvas with a phone number which rewarded curious audiences with a voice note from the rapper delivering news about his new album. Taking a select number of media placements, the social content shared by the fans who dialled in blew the campaign out far and wide.
Or, you could go BIG like La Casa De Papel's Biggest Fan. The show's most die hard fans were invited to compete for a chance to become part of the series' lore with their very own city moniker, in turn sparking a flurry of shares and conversations amongst a fanbase whose wants and dreams were not only recognised, they were made tantalisingly real.
5. Hit the campaign trail
Rethink the rulebook
PR, press appearances and media partnerships have always been an integral part of launch strategies but the landscape has changed and continues to evolve at pace. Brands need to shake off their old habits and resist defaulting to hitting the same platforms in the same tired old ways.
You're now as likely to see musicians or actors promoting their new releases while wolfing down hot wings or facing cringe questions in a chicken shop. The success of video games are beholden to the Twitch streamers and influencers and how entertaining they make your game look.
Many of today's successful launches adopt an entertainment first approach to press and media, showing up on platforms that are hyper relevant to their audiences and doing so in surprising and fun ways that are optimised to fuel the meme cycle even more.
8.7M

views in 13 days of Jennifer Lawrence's appearance on Hot Ones
6. Fake it til you make it
Reject reality
Your ambitions or ideas don't need to be limited by what's actually possible (or the budget you have). It's possible to spark conversations and ignite imaginations with something 'fake' too.
From football to fashion, there are a host of recent, standout examples where CG visuals and real world footage combine to 'is it real?' stories that have ignited collective debates around whether they're legit, or indeed whether it even matters because the idea they represent is inspiring and fun in its own right.
Man City celebrated their treble win by showing off their blimp sized silverware above the Etihad. Jacquemus transformed their iconic handbags into cars and took to the streets of Paris. The success of hese show us how inspiring audiences find the crossover between digital and IRL. There's undeniably power to being able to realise ideas like these for real, but in the age of social faux execution can be just as impactful.
2M

Likes on the Jacquemus Instagram post
Brand Experience Agency of the Decade