Live From PS5: The Last Of Us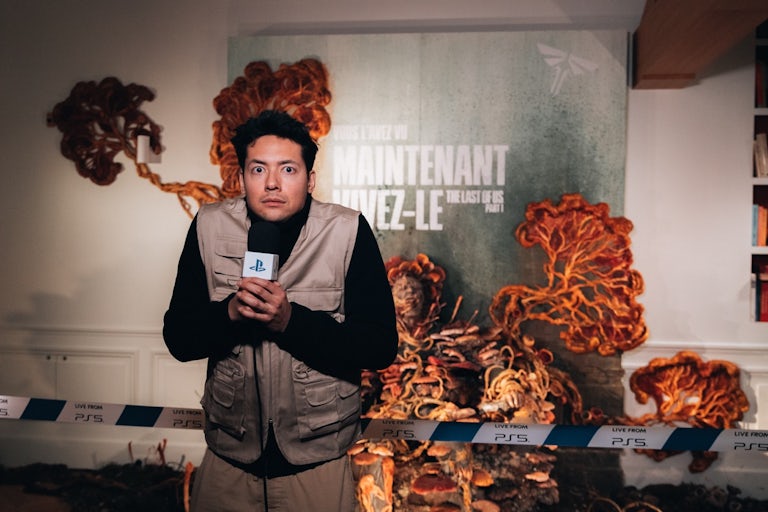 Amplify + Playstation rappellent aux gamers et aux fans de la série que le phénomène The Last Of Us a commencé sur Playstation...
Brief
La série The Last Of Us fait le buzz, un contexte culturel idéal pour communiquer sur le jeu et permettre à PlayStation de ne pas rester dans l'ombre de la série.
Observations + Stratégie
Une audience de gamers qui apprécie particulièrement les dispositifs immersifs. Notre parti pris créatif a été de plonger les fans dans l'univers effrayant du jeu The Last of Us dans un des lieux emblématique de Paris.
Nous voulions trouver un moyen de célébrer et de plonger les gens dans l'univers du jeu.
Pour être le plus impactant possible, nous avons choisi un lieu iconique de la culture Parisienne: l'Accor Arena. Salle de concert mythique qui a vu passer les plus grands artistes Français et internationaux.
Solution
Live From PS5: The Last Of Us
Dans la continuité des précédentes activations de la saga "En direct de PS5", nous avons créé une installation mettant en scène un gamer assis sur un canapé et tenant une manette PS5…le personnage pétrifié, infecté par le champignon Cordyceps, dont les experts auraient lié cette épidémie à l'augmentation du nombre de personnes jouant à The Last of US sur PS5.
Une activation en partenariat avec l'un des plus grands influenceurs gaming en France, Locklear qui incarne le rôle d'un journaliste sur la vidéo « En direct de la PS5 », à travers d'un reportage diffusé sur les réseaux sociaux de la marque, qui tente d'expliquer ce phénomène inhabituel.
3.1M

de vues sur Instagram

2.2K

de likes

292K

de vues et 29.6K de likes sur la page de Locklear

3.3%

de taux d'engagement
Brand Experience Agency of the Decade