Watch Party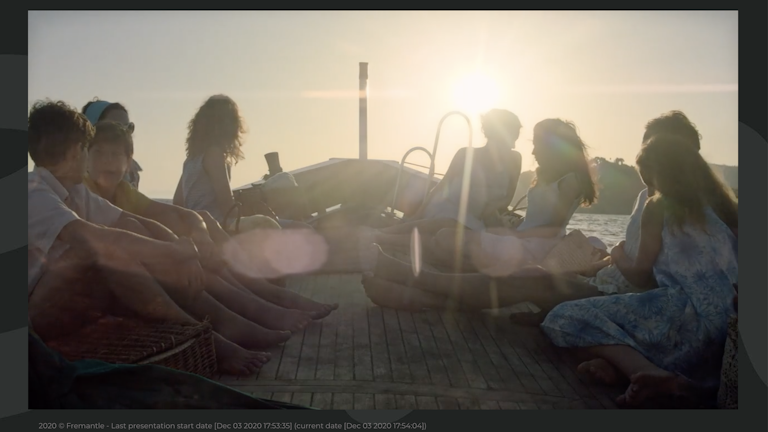 Freemantle + Amplify team up to launch an exclusive watch party...
Challenge
After MIPCOM was cancelled, Freemantle challenged Amplify to create a solution that could enable playback of high definition, highly secure IP protected content to a watch party of commissioners and Freemantle sales staff that could also facilitate a round-table discussion on the content at any time during or post playback. The big issue being, such a product didn't exist…
Major content sales conventions have all been cancelled. This, paired with the IP security challenge of sharing embargoed content online and quality issues associated with video playback on web chat, Freemantle had no way for its international sales team to sell the series it makes to commissioners.
Enabling the playback of high res video with audio, as well as allowing round table discussion, all remotely controlled from Freemantle sales teams.
Essentially the brief was Vimeo meets Zoom and surprisingly nothing out there combined these features and functions.
So within 4 weeks, we made one.
Whilst a host of pre-existing live content screening solutions are available, not one of these fulfilled all of Fremantle's requirements from a privacy, control or bandwidth point of view. Amplify were tasked with curating a solution that allowed individuals to watch, discuss and evaluate content whilst upholding securing across all content. This experience needed to work seamlessly from a digital perspective but also showcase a bespoke viewing experience that encompassed the look and feel of fremantle owned platforms.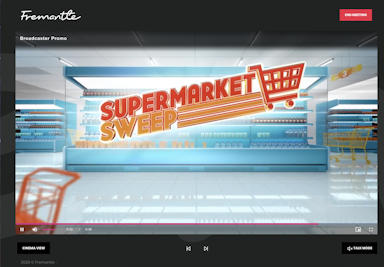 Strategy
Amplify assessed a number of possible digital agencies to identify the most suitable partner to build the content screening platform. Amplify needed to ensure the audience were to leave each screening session having experienced an uninterrupted, highly secure viewing experience.
Fremantle Watch Party Platform.
The platform itself was a bespoke built screening site that allowed the sales team to use a video calling system alongside it. The sales team were able to invite clients to their Watch Party Screening via a link they shared in their video call. To enable on-going discussions, users were able to host a screening session alongside their video call. The experience was amplified via the host's ability to create their own 'meeting playlists' from a drop down list of content and to stop, start or even narrate the content playing. One of the key benefits of the platform is that it has the ability to have multiple users from around the world using it all at once with high quality streaming capabilities - an essential for the global Fremantle sales team worldwide.
A common issue for online events is playing back/broadcasting video content in HD to multiple viewers and then having a live discussion around that content, both through traditional video conferencing and live text messaging. The content just doesn't ever play back to a good quality.
Freemantle challenged us about the possibility of constructing a feasible solution and one that needed to be deployed to their sales teams within 4 weeks from briefing.The solution we had was to sit down with our innovation and broadcast team, some talented developers and make this product from scratch.
As a result we now have a custom made product that enables a presenter to play high definition video with audio, whilst then also having round table discussions around the content all in a highly secure space that is private but also amazingly simple to both operate and access once users allowed in to the sessions. Freemantle can drag and drop the videos from their broadcast servers and build playlists on the fly. As well as this they can control the playback and speech functions remotely giving them full control over the sessions.
It was vital for us to create a highly simplistic UX throughout as many of the teams were not considered to be technically literate. The UX and UI is so simple that you are in the sessions with 2 clicks whether you are a viewer or a presenter. They are so happy with the product we are now expanding the features and functions for a larger 2.0 product release.
The brief to us was fairly simple on the surface, Freemantle wanted something that was essentially the functionality of Zoom meets Vimeo. So we set about building it.
We used Brightcove as our secure media playout platform and worked hard to integrate that with the Zoom video chat API. Creating a custom made frontend, that could neatly house both products in a Freemantle branded surrounding as well as ensuring a simple and highly intuitive UX for both attendees and the Freemantle staff running the sessions (minimal fuss and maximum ease at sign in was a key requirement, so we ensured slick and one click registration at the front end)
Two slightly different UI's were developed to cater for the dual function of the product. The presenter was given access to the Freemantle program catalogue CMS, so they were able to build and adjust their playlists for the commissioners on the fly, as well as also have central control over the playback, audio and chat functions for smooth running sessions. The audience had a simple log in, with clear onboarding into the session as well as clear instructions on watching content, chat and messaging functions.
The sessions and the content were totally secure.
Version 2.0 is in development with new features to give even greater flexibility to this well received project.
All of this was developed and delivered for a version 1.0 in a 12 week time frame, enabling Freemantle to successfully run all of their program showcases to all commissioners without a hitch.
Brand Experience Agency of the Decade