Kings Cross Christmas + Purple Light Up Activation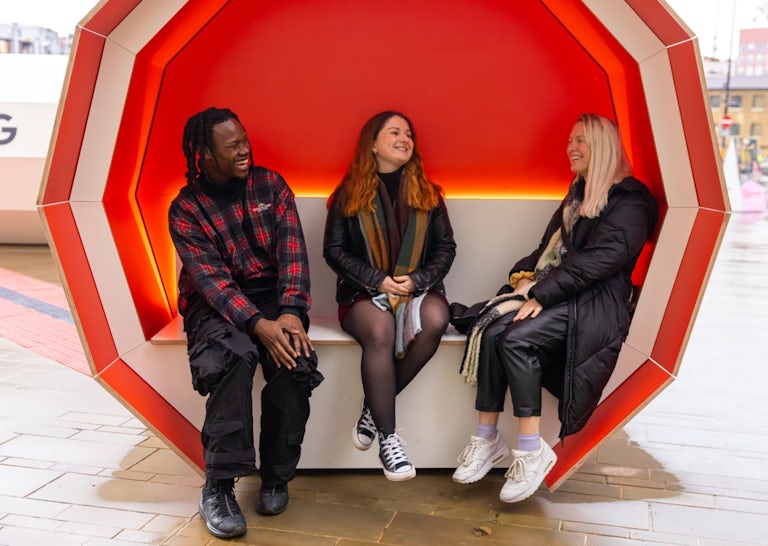 Google + Amplify create a festive experience that spreads warmth, hope and seasonal cheer as a gift to the community of Kings Cross, home of Google's London HQ...
Challenge
Create a joyful and visually impactful Christmas activation to delight everyone who visited King's Cross over the holidays, creating good cheer and positive sentiment for the festive season.
Incorporate the #PurpleLightUp initiative into Google's King's Cross activity, proudly supporting the global movement which draws attention to the economic contribution of the 386 million disabled employees around the world.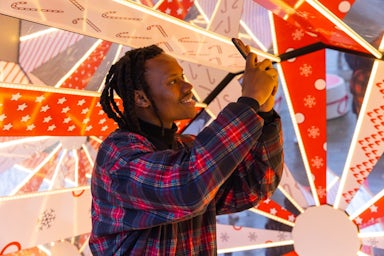 Insight
Christmas 2020 was unlike any other with many of us kept apart due to COVID. With everyone having a tough couple of years behind them, Google recognised the KGX audience's need for warmth, hope and delight.
Strategy
A two-part activation that gave Google a festive presence in the local area whilst simultaneously recognising their global commitment to People with Disabilities for International Disabilities Day.
A festive photo-opp.
After painting the town purple for the Purple Light Up Moment on 3rd December - using dramatic purple lights to illuminate Google's main office building - Amplify worked with Google to launch an ultra-festive explosion of colour housed inside an oversized Christmas cracker.
The installation featured two split halves of an enormous cracker, each half measuring nearly 5-metres in length and 2-metres high. Both halves burst with a feast of festive colour, taking the form of playful graphics, mirrors and lights.
As a joyful and vibrant reward for riding out what has been a challenging year for many, passersby could walk into the cracker to fully immerse themselves in 'Googley' patterns, while creating highly shareable photo moments as they experimented with mirrors and lights to create unique patterns.
Cracker 'gifts' that doubled as street furniture fostered an experience worth staying for that people could enjoy over the holidays. Further heightening the feeling of warmth and goodwill, surrounding OOH billboards wished everyone happy holidays from Google.
Brand Experience Agency of the Decade