501 Day
Amplify + Levi's celebrate 149 years of 501 with an immersive nostalgia trip…
Challenge
Amplify was tasked by Levi's to create a 501 Day experience that educates key opinion leaders and retailers on the history of the 501 whilst re-introducing it to today's youth culture.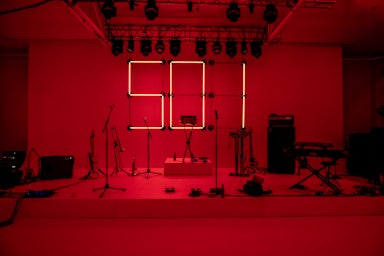 Insight + Strategy
While the 501 achieved its iconic status decades before, no era's style was defined by the 501 quite like the 1990s. Today, Gen Z embrace trends from the 90s & Y2K as a form of nostalgic escapism. There is a tension between longing for the analogue habits and styles of the past whilst considering what's next.
Celebrating the heritage and cultural significance of Levi's 501 by creating an experience that excites fans and key opinion leaders alike. All the while tapping into the importance of nostalgia, originality and creative self-expression to our audience of Gen Z Aussies.
Solution
Levi's 501 Day: The Number That Changed Everything
Amplify and Levi's celebrated 501 Day in Sydney with an immersive journey through the history of 501 with live performances from Winston Surfshirt and Milan Ring and a hidden 90s bedroom in a converted warehouse studio in Alexandria.
Upon arrival, guests explored a 501 Moments Exhibit. A visually impactful, mixed media, interactive experience–celebrating the presence of Levi's 501 during some of the most culturally defining moments of the last 149 years. Starting in 1870 with pioneers in the American west to the 60s with the Summer of Love to the fall of the Berlin Wall in the 80s. Conveying the significance of those who made the 501 their own and showing the evolution of the product. The 90s moment featured a content creation opportunity for guests to create a "meta-selfie" with audiovisual equipment from the decade.
With live performances from Winston Surfshirt and Milan Ring, the gig space included a large scale '501' centre piece on stage that resembled a retro digital clock. This detail played on concepts of time and immediacy to create an edgy, immersive atmosphere.
Finally, a hidden 90s bedroom was designed to be discovered serendipitously as word spread through the event for guests to visit. The room was red lit with posters and various nostalgic props to create a playground for content creation. In turn, recreating the atmosphere of hanging out in a friend's bedroom. Guests were able to get their nails done by local artist Mannequin Hands, get creative with branded temporary tattoos, plunder a wardrobe of a thrift store finds and get competitive on a SNES. The space was a homage to the 501's enduring impact on 90s style and our audience's nostalgic love of the era.
Brand Experience Agency of the Decade