Wimbledon Throwback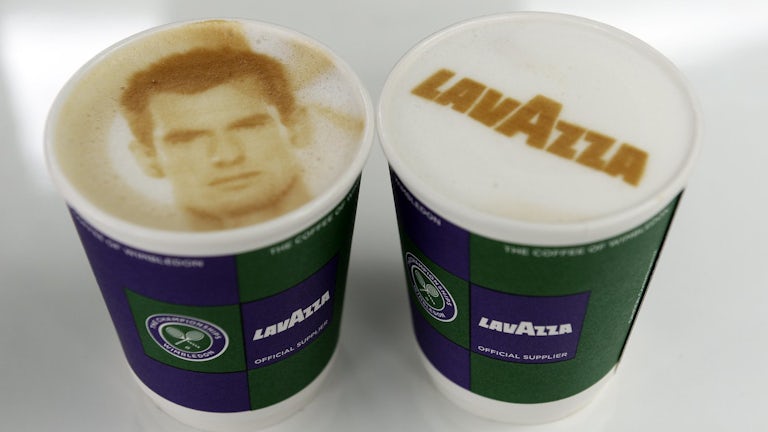 Throwback: Wimbledon activations from Stella, Lavazza, Haagen-Dazs and Amex...
Published on 3rd April 2020.
With Wimbledon cancelled until 2021 Senior Reporter Fayola Douglas picked four of Campaign's favourite activations from previous years, including Amplify's 'Drinkable Selfies' for Lavazza.
For coffee brand Lavazza, "Drinkable selfies" made use of technology that printed detailed photographs or written messages straight on to the foam of cappuccinos and lattes.
It remains to be one of Amplify's "favourite examples or 'David v's Goliath'" work, the agency's founder Jonathan Emmins says, using clever thinking and creativity to outmanoeuvre those brands with bigger sponsorship budgets.
"First, we sponsored the much overlooked, cost-effective but quintessentially British Wimbledon 'queue'.
Second, we created a global first, the 'Drinkable Selfie'. Those queuing not only had a complimentary coffee, but we also printed their photos or messages onto them too.
Finally, as Andy Murray was a bit busy (and expensive!), we got the next best thing - his mum. Judy Murray was also joined by Toni Nadal and Carlos Moyá for some frothy snaps and an extra dusting of star power.
The experience captured the imagination of the hordes of tennis fans on the ground as well as generating shareable social media content. The campaign also grabbed global attention in publications including Forbes, The Verge and Mashable travelling as far and wide as Australia, Russia and Jamaica."
Full case study here.
Brand Experience Agency of the Decade