Trends + Insights Digest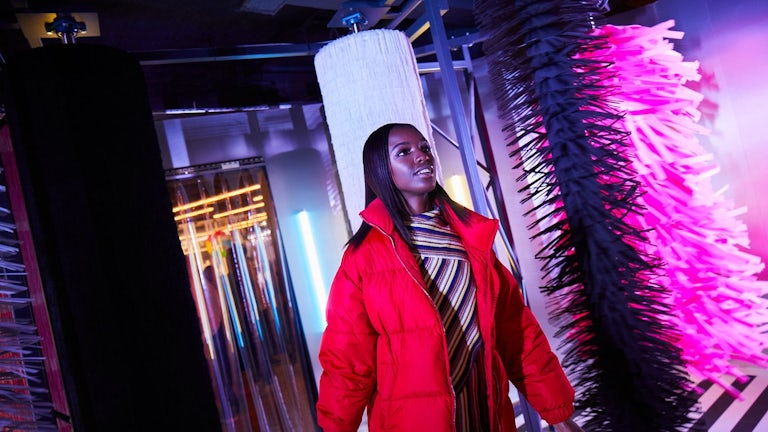 Providing consumers with experiential value creates an emotional bond with a brand...
Published in July 2020.
Traditionally, experiential was seen as an events-only channel, but in recent years it has evolved into brand experience, touching on a variety of different mediums including live events, content, broadcast, retail and digital. Brand experience provides a platform for brands to holistically communicate who they are; that message should be simple, original and crucially make you feel something. Although fleeting, experiences are never just a moment in time. Brand experience extends into campaign thinking and multi-channel engagement, where content empowers audiences to take control of their own stories and become curators of their own worlds.
Now, more than ever, it's time for the industry to double down on supporting audiences, performers and brands to be creative.
Festival stages might have suddenly turned into bedroom sessions, but brands can still help artists launch an EP from their kitchen or create magazine-based televisions shows from home. A brand experience is about feeling the connection, whether in person or digitally, and allowing your audience to control, curate and share their own experiences within the world you've created.
Brand experience budgets are increasing and will keep growing as brands recognise the value of making every interaction as human as possible — and the ability of these interactions to help brands connect with audiences, differentiate themselves from competitors, and retain audience attention.
The industry pressures of Covid-19 is helping to highlight the breadth of brand experience. A lot of the changes that have been happening in the industry have been expedited, forcing brands to become creatively brave or risk being left behind. The acceleration is positive; it gives brand experience a chance to invest in the future by offering a bigger vision of how audiences want to engage both in-person and online.
To read the full version of the digest, head to Chief Marketer's Brand Network
Case study
Curiosity Rooms content engine
In a world fuelled by mash-ups, remixes and autoplays, a core audience of tech-savvy 25-44-year-olds increasingly feel they've seen it all. They have an unparalleled degree of visibility but need motivation to share their social currency.
To feed this, the rules of retail were broken by Curiosity Rooms, a 5-week long pop-up flagship store in the heart of Regent's Street.
Curiosity Rooms exemplified what a 'content engine' approach looks like; from a pastel-pink laundrette that powered fashion discovery through AI, to barrierless window displays, escalators converted into slides, car-wash selfie spots and a basement theatre hosting 36 cultural events.
A strong programme of 21 hero partnerships, including nine media and 12 cultural partnerships, led to a 34% uplift in purchase consideration on the ground and 200 pieces of exclusive online content – and organically generated content outstripped it all with 80m+ people connected with the user-generated content online. Every touchpoint of the experience was designed to empower the audience to share, curate, comment and interact.
Case Study
World-building empowers fans
YouTube's Sam Smith music project provides an example of how a magical experience can be turned into a content legacy. Building on Smith's music video, which consisted exclusively of the windows and window displays of a wig store, a content engine approach was developed that enabled Sam's engaged fans to explore what goes on within the four walls of that store.
It travelled from on-screen music video, to in real life (IRL) experience and back on-screen again, through a brand and artist channel mix, expanding the world of Sam Smith by inviting the fans in to be a part of it.
Experience design may have been limited by four walls but it became a rich beacon of fashion, culture and creativity with millions of interactions and views. Content turned up the volume for the event, campaign, single and of course, YouTube Music's involvement
Case Study
An authentic pivot
Dr. Martens wanted to explore their role in culture, as part of a long-term strategy to make an impact on the lives of UK youths and subcultures they're engaged in. A film, originally planned as a live experience moment with fans of punk guru Bobby Vylan, was due to the Covid-19 crisis reshaped into a live, professional broadcast from Vylan's bedroom studio.
This original event enabled fans to experience an intimate opportunity to delve into the musical process, domestic space and creative talent of Vylan in a new way.
Despite being created under the restrictions of isolation, the film is not watermarked by the Covid-19 pandemic because it leans into a cinematic style that, unlike most current campaigns, purposely avoids looking like it was captured in lockdown.
Committing to a high standard of filmmaking under self-isolation (and within government guidelines) means broadcast and editing approaches can be professional and with mixed-media content capture, artist collaboration, remote direction and virtual production. It still gives fans intimate access – just in a slightly different way.
Case Study
Airbnb's 'Night At'
Airbnb's most successful 'Night At' to date proved how an experience for just two people could capture the imagination of millions through content. The curation set design and styling gave viewers unparalleled access to the Mona Lisa, Venus de Milo and Napoleon III's apartment.
The event ran twice: once to film for the pre-promotion and again for the winners.
With both audiences in mind, an aesthetic experience was crafted that captured the imagination of online viewers as well as those on the ground.
The event generated a global impact with over 2700 press and broadcast pieces secured in over 90 countries and 5.9m YouTube completions. Airbnb received 182 thousand entries and 1.5m website visits, while the campaign contributed to the Louvre's aim of modernising their image. Two lucky winners experienced something truly special, but this was an event that went worldwide.
Learning Points
Brand experience should always be constantly evolving, testing and pivoting. The following three-pointers have always been true but are perhaps more imperative than ever in the current climate and changing times...
Audiences always come first
You need to get to know your audience again and rethink what your connections mean. The best thing brand experience offers is empowering audiences to feel central to their own experience. 65% of people believe how brands respond to the pandemic will have a "huge impact" on their likelihood to buy their products.
Adapting to audience needs, as they change, is important and using tactics such as digital innovation could be key. Gamifying retail experiences has put audiences in control of their online content like in Nike China's Reactland campaign, which enabled user-testing through role play. Giving audiences the opportunity to control, curate and share their own content experiences is a must. Crowdsourcing will remain important too, as seen with the United Nations (UN), who launched an open creative brief to get people to understand the global landscape suggesting it's important to reframe the language brands use with their audiences and move into an informative space to reduce anxiety and worry in uncertain times.
For helping consumers, innovating online is a key space to be agile in and activate experiences they can engage in when physical spaces aren't currently accessible.
What is helpful to audiences naturally evolves. Beyond the current crisis, there will be a need for storytellers and worldbuilders to shape a vision beyond the four walls of people's homes. Brands could focus on emerging, longer-term issues around mental health, isolation and the economy.
Aim for longevity and don't timestamp work
Writing in the first phase of a the Covid-19 lockdown, brands have responded amazingly to the pandemic and a seemingly new normal. But reactive work runs the risk of being stuck in time.
One learning point to follow is to avoid timestamping work. True brand experience innovation is propelled by the current circumstances – but it doesn't have to be defined by it. Every piece of work produced should live beyond the moment, amplified through content engines, broadcast plans, and innovation.
Ballantine's Boiler Room, for example, while very relevant to the current crisis, is a long-term partnership to support under threat music communities around the world. Committing a six-figure fund, in the form of 20 x £5000 grants, distributed to 20 community-driven collectives, it was relevant prior to, during and will be relevant after the crisis. In the present, those collectives selected for grants will be participating in Boiler Room's new 'Streaming From Isolation' series.
Want to know more about the ways brand experience is pivoting and innovating during the pandemic then head to our website here.
Brand Experience Agency of the Decade