Spotlight: Miyelle Karmi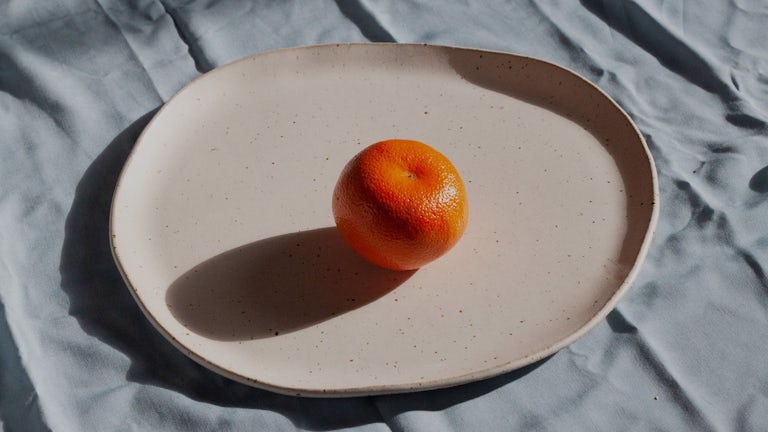 Inspiring self-taught ceramics with a twist...
Our latest Instagram interview features Miyelle Karmi, a ceramicist and designer...
Over the coming months, Amplify are sharing their Instagram with a series of inspiring people, designed by Amplify creatives Beth Anderton-Allen and Catalina Velásquez González.
If you're looking for creative ceramics with tonnes of personality then look no further than Miyelle Karmi's range of homeware, jewellery and sculpture. As a graphic designer, her work is fun and playful across both print and digital platforms.
The same playful ethos can be found in her making too. Shape is a fundamental part of her process, taking an expected form and heightening its features. A simple palette is used so that the materials speak for themselves.
Miyelle's story shows us that finding our passions can be merely an experiment away – in this world of tutorials and online learning anything is possible! She calls coming across a blob of clay her 'lightbulb moment' and self-taught the basics...
Being based at Turning Earth helped, which provides open-access ceramics studio in London allowed her to create work amongst a community. You can find out about their upcoming fairs and facilities here.
Tell us a little bit about who you are and what you do!
Hello! I'm Miyelle and I design and make ceramics. I mainly create functional homewares but also sculptural pieces and jewellery too. I guess I'd best describe my work as being playful, abstract and experimental with exaggerated shapes and proportions.
How did you start making ceramics?
I hadn't always been interested in ceramics but a few years ago I just had a feeling I wanted to learn how to make them. This idea just popped into my head like a lightbulb moment.
For a few months I tried unsuccessfully to book a place on one of the workshops at my studio Turning Earth in Hoxton but I had no luck as they're so popular they sell out as fast as Glastonbury tickets! So 3 years ago I just decided to become a member of the studio and teach myself. I started with a blob of clay and just started playing... I was squishing, rolling and making a mess.
Watching YouTube tutorials was a big help – you can learn anything on YouTube these days. Plus the technicians at my studio are all super talented ceramicists and were always there to offer advice when I needed it.
What advice would you give a young creative starting out?
I'm convinced that everyone has a talent but the tricky thing is discovering what that might be. For some people it might be blindingly obvious. It took me till I was in my thirties to discover ceramics and I'm so happy I did. So my advice would be to try all sorts of different creative practises as you never know what you might fall in love with, whether you're young or old. It's never too late!
Any upcoming projects we should know about?
I'm going to be collaborating with my friend Lucy who has a soy wax candle company called The London Refinery to design a beautiful holder to house her candles in. You'll be able to buy something that smells wonderful but that can also be kept forever. Once the candle has burnt down it can be refilled with wax to create another candle or you can use it for something else. It's all about slow living and reducing waste.
Who are 3 people that inspire you on Instagram right now?
Coincidentally, Choose Love (who you previously interviewed): I think the way they fight justice related to the migrant crisis and bring awareness to the public about what's going on is so admirable. I volunteer at a migrant centre so this is a subject that's very close to my heart.
Nadia Jaber - She's an artist and friend and I love seeing the brilliantly fun new works she creates and how her art is evolving over time.
One_Armed_Chef- Giles Dudley is a war photographer and he tragically lost both of his legs and his left arm in Afghanistan after stepping on a landmine. After the accident he discovered cooking which became a form of therapy. Scrolling through his instagram you can find all sorts of delicious recipe inspiration and see the food he eats on his travels around the world.
Any dream brands you'd like to work with?
I would love to work with Liberty as that store is like a magical emporium. And a wild dream would be Gucci. I'd love to create some wacky pieces for Gucci Osteria.
Brand Experience Agency of the Decade