Spotlight: Minna Leunig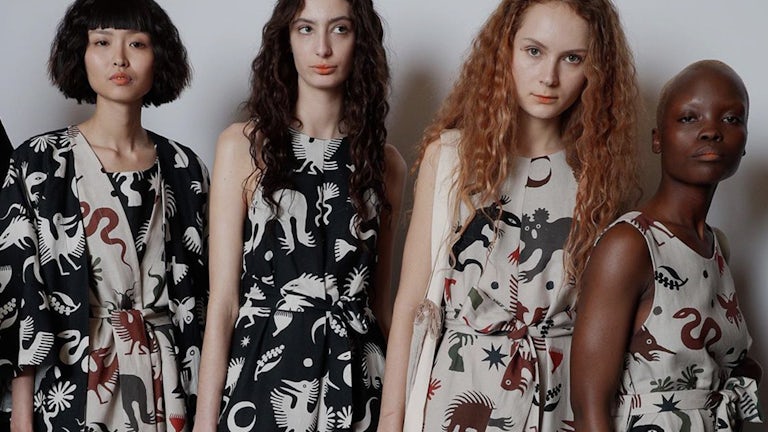 Our Australian Creative Director, Tim Baggott, continues the 'Culture + Creativity in a Crisis' conversation...
Tim has been speaking to a variety of Australian artists and creatives about their COVID-19 experiences and the role brands can play in supporting the creative community.
Who are you are and what do you do?
I'm Minna - a full-time freelance artist splitting my time between painting large scale murals and smaller works on canvas. My work is largely inspired by the world of Australian native fauna, and the inherently wild feeling present in so many Australian landscapes.
Have you collaborated with brands in the past?
I'm quite selective when it comes to collaboration - with any brand I work with, it's important that I feel a strong personal alignment when it comes to core values. My favourite collaboration so far has been with Kuwaii - a Melbourne based clothing label focused on high quality, locally made and environmentally sustainable garments.I've also done work with Arc'teryx - an outdoor equipment company known for it's leading innovations in climbing, skiing and alpine technologies and a strong commitment to environmental sustainability. Because my work is so inspired by the natural world and essentially all about drawing peoples attention to its intrinsic value and the need to protect it, I'm interested in working with brands who feel passionately about this area and who are committed to making a difference.
Which brand did you do your first collaboration with?
My first major collaboration was with Kuwaii. They're known for collaborating with local female artists - they do two artist collaborations each year. I suppose they did take a chance on me as they pretty much allowed me free rein when it came to the design - which was amazing as it meant that creatively I felt quite uninhibited. Career wise it was great to see my work in a different format and an honour to be associated with a label I respected even long before I ever worked with them.
How important were brand collaborations in helping you get to where you are today?
As brand collaborations don't make up the bulk of what I do, I wouldn't say they've been essential in helping me get to where I am today. Most of what I do is paint on canvas for exhibitions and paint large scale murals (indoor and outdoor). I don't focus on brand collaboration, but if an opportunity arises to work with one I genuinely admire, then I see it as an enjoyable way to diversify my job and learn more about other areas.
What did you have planned for 2020, pre-COVID-19?
A lot more mural festivals - I'd planned to paint in the Brisbane Street Art Festival, Wall to Wall in Benalla and the Tumby Bay Street Art Festival. I also had a road trip from Sydney to Melbourne planned with a handful of other artists. We were going to drive through bushfire affected areas, volunteer our time and paint murals focused on native wildlife and community spirit. As well as that, I'd planned to do a residency in Spain. Unfortunately with COVID-19, all of that has now been cancelled (and hopefully shifted to 2021)!
What are you doing creatively during COVID-19?
I feel really fortunate to still be working. Although a lot of my work has been cancelled, I've managed to pick up a number of other jobs so am actually pretty busy both painting murals and working on some smaller canvas works for commissions and group exhibitions (now to be held online).
How could brands collaborate with you right now?
I'm open to the right kind of collaboration and am particularly interested in working with anyone with a strong focus on sustainability and the environment. The best way to get more of a gauge on my work and general ethos would be to visit my website and contact me via email.
Brand Experience Agency of the Decade