Soon when you walk down the street, 3-D creatures could try to sell you something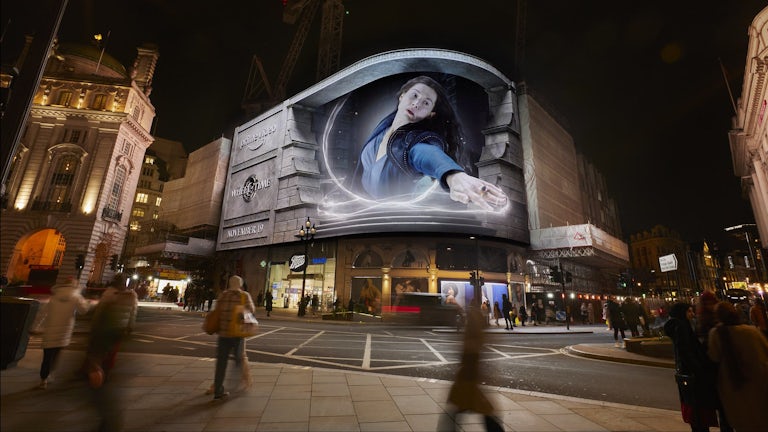 A new form of outdoor advertising is slowly taking hold...
Published by: The Washington Post
Written by: Jeavon Smith
Date: 03/12/2021
It all began with a floating cat.
The giant feline suddenly appeared suspended over Tokyo's Shinjuku train station. Throughout the summer, it stretched awake in the morning, meowed at passersby during rush hour and curled into a sleepy ball after midnight.
The cat, along with a cresting ocean wave above the streets of Seoul, wasn't a biology experiment gone awry. It was a 3-D anamorphic outdoor ad, a proof-of-concept from several Asian design firms. The pieces would inspire principals at British ad company Ocean Outdoor, owner of many public screens across Europe, to create tools for a 3-D ad platform called DeepScreen. Part art installation, part "1984″-esque vision, the results hint at what our commercialized outdoor spaces might soon look like.
In just a few months, Ocean Outdoor's Piccadilly Circus location and others across Europe have attracted advertisers including Fortnite, Netflix, Vodafone (the ad has 25-foot rugby stars and their ball bursting through a building), Sony, Amazon's Prime Video (for its new "Wheel of Time" fantasy series) and food-service company Deliveroo. Two weeks ago, the British agency that worked on the "Wheel of Time" spot, Amplify, brought it to Times Square. (Amazon founder Jeff Bezos owns The Washington Post.)
In that ad, actress Rosamund Pike, whose character Moiraine represents "the light," reaches out her hand, beckoning for help. The Fade, an agent of "the darkness," reaches out his mouth, looking for a city bus to devour. The effect can give passersby the impulse to duck and is a leap ahead of the area's famous steaming cup of soup.
Now comes anamorphic. It works via "forced perspective" — the idea that flat images can be manipulated to appear dimensional from certain vantage points. While the fundamentals are centuries old, very bright and bendable high-definition screens with ultra-quick microprocessors make the illusions newly convincing.
Read the rest of the article for further insight from Amplify's Chief Creative Officer Jeavon Smith.
Brand Experience Agency of the Decade