Nike's Cryptokicks Just Redefined Sneaker Culture Whilst Raising the Bar for Brand Potential in web3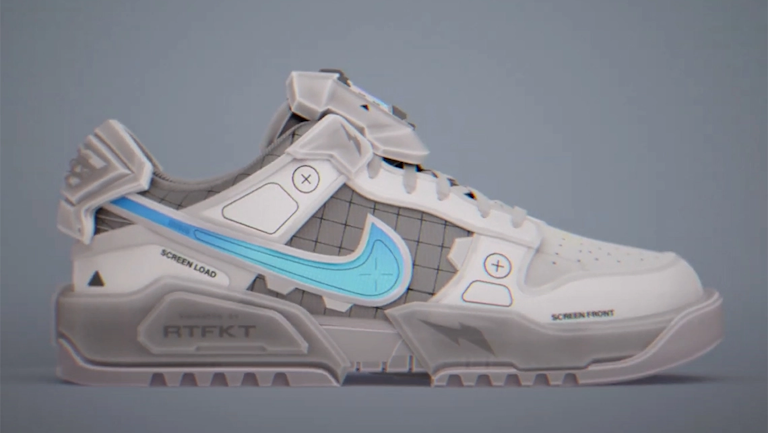 Creative chaos is the future for fashion, as Amplify's creative director Ed Hallam explains, in his predictions for Cryptokicks...There is synergy between the Cannes Film Festival and Cannes Lions Festival...
Published by: Little Black Book
Written by: Ed, Hallam
Date: 17/05/2022
In 2019 Nike filed a patent for CryptoKicks, a concept and project that I had the pleasure to work on at my former agency (shout out to the amazing team at Rehab). Once Nike fans found the patent it set the internet on fire with rumours and theories. Shortly after they also acquired the disruptive digital fashion and 3D creation studio RTFKT - this the public's first taste of what the future holds for the powerhouse brand.
Since then we've had a pandemic that brought with it an explosion of immersive web and NFT hype as we all looked for hope in a future beyond our reality. Fashion brands like Adidas released their NFT collaboration with Bored Ape Yacht Club and Balenciaga created an entire game to immerse fans into a whole new world. Brands launched their early ideas of what the metaverse and web3 could do for fashion and sneaker culture leaving us all wondering how Nike would keep up with the new world being made around them.
However, On April 22nd 2022 RTFKT Studio unlocked the Nike Dunk Genesis. The sneaker was born from a special box (called MNLTH 🗿) gifted to loyal RTFKT customers - cracking the cryptic code to reveal what was inside took the RTFKT community on Discord and Twitter weeks to crack with 8 quests they needed to solve together. Before the sneaker was even in existence, how the two brands dropped the collectible was redefining fan and customer engagement in this new era of web3.
Now the secret's out, the Nike Dunk Genesis which is an NFT that lives on the blockchain each with their own smart contract that proves ownership has been introduced to the world… but it's just the beginning.
Ushering new wave artists into sneaker culture
The first innovation comes with the ability to evolve your original sneaker by purchasing DNA vials. Combined with your sneaker, the DNA changes your Nike Dunk Genesis with expression from 8 new wave artists and creators.
The technical process happening here is that each time you evolve your sneaker you're actually burning your original NFT and contract and creating an entirely new one. This happens each time you buy a new vial and evolve your sneaker - this plays with the idea of value and scarcity; is it more valuable to own the very first original or be part of the journey to discover new expressions and creative possibilities.
Creative chaos is the future for fashion
The future for CryptoKicks comes with the ability to mash two sneaker designs together to create one totally new design. This is huge! The idea of chaos and what dominant or recessive DNA will do when combined together will open up a greater sense of personality and ownership when it comes to your digital fashion.
For now, Nike and RTFKT only have one silhouette, the Dunk Genesis. But there's already a new MNLTH waiting to be unveiled - possibly a new silhouette, probably something from the Air Max range. Combining two silhouettes could even allow people to create entirely new sneaker shapes, not just the added fantastical elements we've seen so far like wings and lightning bolts.
3 Predictions for CryptoKicks
Access - Nike will want to change the way that people get their hands on MNLTHs, avoiding the same painful resell market negative sentiment that is rife in sneaker culture – already the highest resale of just reached $125,000 on popular NFT marketplace

OpenSea. Offering more MNLTH airdrops to loyal RTFKT and Nike customers will be likely, but also the ability to earn product, probably through movement rather than buying will become part of their offering.
Physical and Digital - RTFKTs mission statement is to 'merge the worlds of fashion and gaming' and we'll see this extend both physically and digitally. Perhaps we'll see the most sought after digital sneakers being made for real. Creating a new hot bed for creativity and understanding desire for design and stories before they're even wearable IRL.
Interpolarity - A cornerstone of what will make the Metaverse real (instead of today's pseudo Metaverses… aka microverses with their own logins, avatars and wallets) is the ability to move between one extended reality to the other seamlessly, taking with you items, avatars and collectibles with you. We'll see many experiences where your CryptoKicks can be worn or played, buying it and once and with their DNA unlocking unique abilities in each world.
There are so many more directions that CryptoKicks could go in, providing a totally new way for audiences to interact with their favourite brands and feel a new sense of ownership and personalisation.
Ed Hallam is creative director at Amplify.
Brand Experience Agency of the Decade