Milan Design Week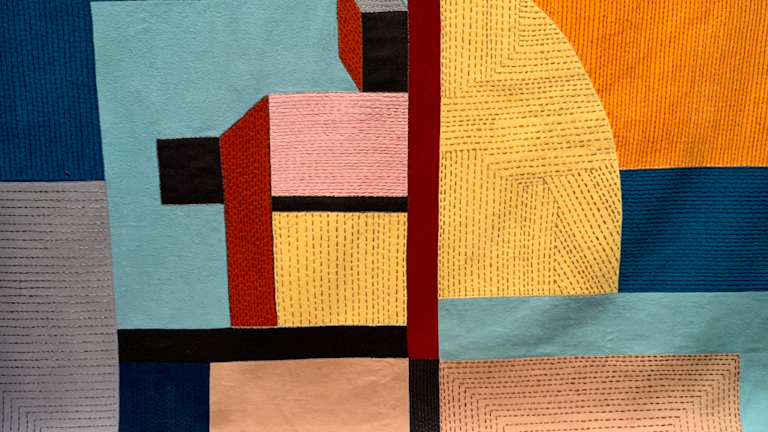 The Creative Team takes on Milan...
Our brilliant Creative team headed to Milan Design Week to check out the new trends for the year ahead, think: materiality, sustainability and making aesthetics mean something. Here are some of our top picks and key insights from the research trip.
One's to watch
We loved the installation 'Perfect Darkness', curated by Elisa Ossino and Josephine Akvama Hoffmeyer with H+O, which took visitors through a labyrinth of different environments. They restored an 18th-century apartment in Milan's Brera district. The transitions between light and dark, colour and monochrome asked us to question how 'homes' are formed.
Exploring 'Bodies in Motion' with Humanscale was another highlight. Tapping into the functionality of the human body, they use 'natural ergonomics' to play with the laws of physics and motion. This means creating objects that automatically adapt to the user.
There were a lot of people thinking about how to approach natural materials in a new way, none more so than formafantasma in collaboration with dzek, who made a selection of volcanic ash-glazed tiles (for both interior and exterior surfaces). It took three years for them to explode their way to innovation. Another trend throughout the shows was a nod to the 1970s – something that the colour palettes of these tiles naturally replicates. On trend and made of self-generating materials? That's a win-win.
Go beyond the 'gram
Aesthetics are important but the message also has to connect emotionally. We can't just create spaces with social media in mind. The power of design is to connect with people – not just to act as a backdrop to their best poses. We could learn something from artist Yayoi Kusama, who created her first Infinity Mirror Room in 1965, making worlds within worlds. Since then, she has also become one of the most Instagrammable contemporary artists, tagged over 800k times with her work prompting curators to think about the best ways viewers can get their selfies. But the work itself ruminates on the cycles of life and the deep repetitions that have haunted Kusama's work for decades. Instagram caught up with her, rather than the other way around.
With this in mind, we've got to keep thinking about how design and installations can connect with people beyond their social media – something that Humanscale definitely thought about (check out the video below).
Materiality
Keeping with the theme of engaging people beyond screens, tactility was also a huge part of Milan Design Week. Decor needs to feel as good as it looks. From curved, natural forms to raw finishes, lots of designers made us get hands on.
We also saw a tension between natural forms and industrial shapes. This is a long-established tussel, going back to the modernist clashes between Eileen Gray, who saw architecture as a 'protective shell against the world' vs Le Corbusier's vision of a 'machine for living'. Today, this tension also includes the question of how we produce our materials - do we source driftwood on beaches or opt for 3D printing? Or can both co-exist? We're going to start seeing processes that incorporate the principles of nature into artificial operation. People will feel more comfortable with tangible objects if they can interact with them.
It's not about disrupting the natural/industrial dichotomy but seamlessly blending them into the everyday.
Sustainability
From repurposing electronic waste to growing our own materials, Milan Design Week also made us excited about the prospect of expanded sustainability. This might manifest in many different ways – everything from electric cars and 3D printed vases made from natural fibres caught our eye. However, the most important part seems to be making a real commitment to change.
Eliminating throwaway culture is hugely important. Practising what they preach, Tarkett and Note Design Studio created their installation from reclaimed flooring and made sure that once Design Week ended they would be reused. Mater Design lived up to their reputation for solid craftsmanship and ethical design by reissuing a classic chair (first designed by Jørgen Ditzel and Nanna Ditzel in 1955). The dimensions tweaked slightly, it was made from recycled ocean plastic waste.
It shows that the materials we use can have a continuous lifecycle from the moment they're sourced to the minute they're recycled. Waste takes on a new meaning when we literally see the expanded life our rubbish can have.
We'll be taking all these findings and more in order to bring them into the ways we approach our creative vision for the rest of the year.
Brand Experience Agency of the Decade