LGBTQIA+ History Month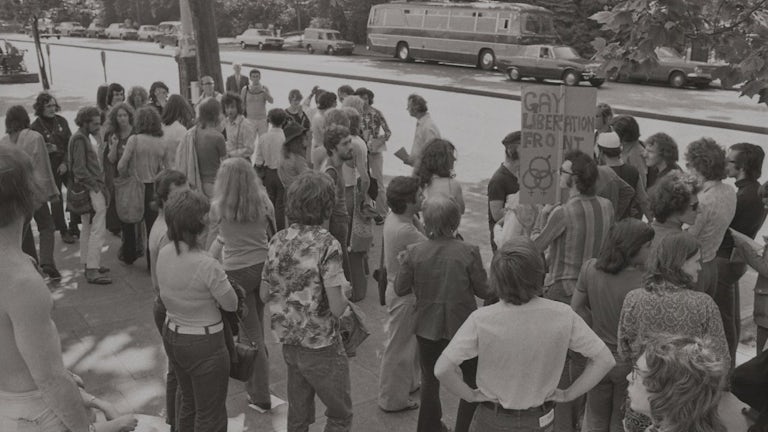 Amplify's LGBTQIA+ group wanted to shine a light on some of the stories that don't always get reported. Stories that reflect Queer life + Queer activism at the time...
This year, we're celebrating over 50 years of Pride in the UK. But really, that's just 50 years of being legally allowed to be…well…us. The last 100 years in the UK has been one of discrimination and hardship for all members of the community.
Stories
Private Dudley Cave
Cave joined the Royal Army Ordnance Corps in 1941, aged 20. He speaks about gay soldiers being 'more or less accepted" with the worst prejudice he experiences coming after someone said he "help a broom like a woman".
Perhaps when faced with the very real possibility of death, peoples initial views were stripped back. However, after risking his life to defend the "freedom loving nations", as Churchill put it, he returned to a country that didn't view homosexuality in this light.
In 1954 he was fired from his managers job at Majestic Cinema after they found out his sexuality.
Dudley Cave then went on to be one of the first committee members for of Gay Switchboard (now called Switchboard) which was, and is, a vital support system for all LGBTQ+ people suffering isolation. He remained a volunteer answering called right until his death.
He set up the Lesbian & Gay Bereavement Project to help give support to members of the community after their partners death - something Cave saw was lacking for the community. It was the first organisation to win charitable status despite the Charity Commissioners initially demanding it drop the "offensive" word 'gay' from its title.
Michael Dillon
Michael Dillon was the first person in the world to fully transition from female to male, having always identified as being male.
Dillon fell ill and was treated at a hospital in Bristol, this would end up fortuitous for Dillon as he was then introduced to Harold Gillies who would go on to be known by many as the "father of plastic surgery".
In 1945, Dillon would begin what amounted to be 13 surgeries over 4 yers. During this time, he also started his own medical training and was soon a qualified physician.
He later published his Self: A Study in Ethics and Endocrinology. The works garnered a lot of attention including from Roberta Cowell who became the first (known) trans woman to undergo gender reassignment surgery.
Individuals like Dillon & Gillies were instrumental in kicking off a world that allowed trans people to physically be the gender they truly aligned with.
Patrick Trevor-Roper
Trevor-Roper was just one of the three courageous men to appear before the Wolfenden Committee in 1955. The committee was set up to look into whether homosexuality should remain a criminal act.
Post-war Britain was a time of extreme conservatism with prosecutions on homosexuality rising by 542% (from 1931-1955).
During his testimony, Trevor-Roper told the heart-wrenching stories of three gay men who had taken their lives because of persecution and fear of exposure. One of these men, 'R', was just 19 years old and described as a "brilliant" Cambridge undergrad.
Off the back of his testimony, the Wolfenden Report advised that homosexuality be decriminalised and so the Sexual Offences Act 1967 was passed.
Throughout his life, he continued to advocate for the right thing and was a founding member of the Terrence Higgins Trust, the UK's leading HIV & AIDS organisations.
Louis Eakes
In 1967, the Sexual Offences Act was passed decriminalising homosexuality in the UK. The law stipulated that homosexual acts must take place in private so all LGBT people could not be seen showing public affection to the person they loved.
In 1970, Louis Eakes was arrested in Highbury Fields during a police entrapment exercise. Police would often frequent gay spots in pain clothes entrapping gay people and ultimately arresting them.
It's estimated that after 1967, up to 20,000 men were convicted of 'Gross Indecency', many of them from police entrapment. You can learn more on importuning by watching the Channel4 documentary Convicted for Love.
The arrest of Eakes sparked the first Gay Liberation Front march in 1970 and ultimately kicked off the public revolt of LGBT people.
Terrence Higgins
Higgins moved to London in the early 70's where he worked for the House of Commons and as a DJ at nightclubs.
He was the first British person to die of AIDS related illnesses which went on to claim the lives of over 320,000 people in the US alone.
Higgins' partner, Rupert Whitaker, and a group of concerned friends within the community set up the Terrence Higgins Trust. The THT went on to become the UK's leading HIV & AIDS charity to provide support for those suffering with AIDS and amplify their voices to hold governments to account.
Notable figures like Stephen Fry and rock band Queen held fundraisers for THT with the latter giving the initial earnings of Bohemian Rhapsody to the charity (around £975,000).
It took until 1996, almost 15 years after Higgins' death, for effective treatment (called ART) to be available in the UK. The lengthy time taken for governments to act resulted in countless deaths.
Organisations like THT have been vital in spreading awareness and providing support for individuals suffering from AIDS or that are HIV positive.
Section 28
Section 28 was a piece of legislation introduce by Thatcher's conservative government in 1988. It said that local authorities "shall not promote homosexuality or promote the teaching in any school of the acceptability of homosexuality as a pretend family relationship".
This was a crippling blow for LGBTQ+ people in the push for equality and directly led to young Queer people growing up in a world where they saw no positive role models for people like them - causing crippling depression & shame for them.
Local authorities halted support for young people and even stopped funding for campaigns like Project for HIV and AIDS Care & Eduction (PHACE) during the height of the pandemic.
The law galvanised the UK's gay rights movement and led to the founding of important organisations such as Stonewall - co-founded by Ian McKellen,who publicly came out during a heated radio debate on the subject.
Christine Burns
Christine was a British transgender rights activist who played a crucial role in forcing the UK government to introduce the Gender Recognition act of 2004.
She faced discrimination when trying to do normal things that required a photo identification such as obtaining winter fuel allowance or marrying.
After taking her case to the European High Court for Human Rights, they concluded that the law conflicted with her right to private life and right to marriage had been violated. Because of her, the Gender Recognition Act was passed shortly after.
In one study conducted, 89% of trans people have thought about suicide. Laws such as the Gender Recognition act are, frankly, doing the bare minimum for Trans people but they did act as a springboard for further equality.
Phyll Opoku-Gyimah
Lady Phyll, as she's known, is the legendary activist and co-founder of UK Black Pride. This is the largest celebration of LGBTQI+ people of African, Asian, Caribbean, Latin American and Middle-Eastern descent.
Hate crimes on Queer people in the UK has risen sharply since the Brexit vote but QTIPOC are affected disproportionally with a third having experience a hate crime in the last year based on their gender identity or sexuality.
Organisations such as UK Black Pride are vital at shining a light on the issues faced by QTIPOC. Lady Phyll hopes to achieve a world free from "racism,
Organisations such as UK Black pride right shine a light on the issues faced by QTIPOC through education, arts and advocacy.
Lady Phyll hopes to achieve a world free from "racism, sexism, misogynoir and discrimination" and where "LGBTQ youth don't take they own lives".
Policing and Crime Act 2017
The Policing & Crime Act 2017, known informally as the Turing Law, set to pardon all historic instances of criminal convictions of gross indecency against men.
Alan Turing, the famed war-time mathematician who saved millions of lives, was convicted of such a crime and underwent chemical castration and ultimately died in 1952. David Cameron made a formal apology and Turing was royally pardoned in 2013.
The passing of this law was an important recognition in the governments failures and cruel treatment of all LGBTQI+ people throughout history.
Modern Activists
Jay Hawkridge - Jay does amazing work highlighting fact about being HIV positive and work on "undetectable = untrabnsmittable".
Alice Oseman - writer of a YA queer story to shine a positive light early on about Queer love. The story will be turned into a show available on Netflix.
My Genderation - My Genderation create film aimed at highlighting Trans people authentically. These are also film that help wider society understand tans people better. The latest film project, Inverness of Bust is the story of trans people travelling to the only doctor who would help them.
Charlie Craggs - Charlie is an award winning Trans activist and author. She started Nail Transphobia which is an amazing project where she travels up and down the country giving free nails to anyone and the opportunity to sit and have a conversation with a trans person.
Tanya Compas - Tanya is the founder of Exist Loudly, an organisation providing support to young LGBTQIA+ people in London.
Brand Experience Agency of the Decade