From Cannes Lions to Canned Beans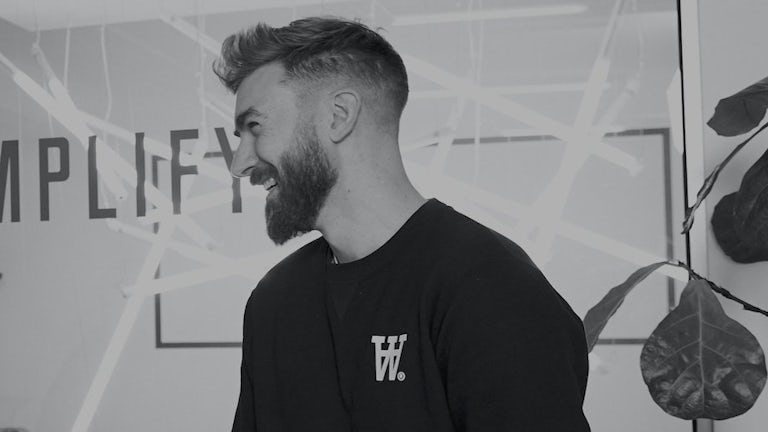 In his first monthly column for LBB, Amplify's ECD Alex Wilson highlights three Cannes Lions moments that mattered...
Published by: Little Black Book
Written by: Alex, Wilson
Date: 14/07/2022
A delicate balance of cinephile, comic geek, sports fan and gamer with an unhealthy dose of climate anxiety. Possibly not the most inspirational epitaph, but that's me.
Throughout my 20s, I worked in events, PR, experiential, entertainment, creative and film - all of which have culminated in my current role as executive creative director for Amplify.
While many (including my Mum) referred to my early working years, dipping between industries, as 'directionless', this career experience has recently been rebranded (thanks to the likes of Donald Glover) as 'hybrid'.
This random concoction of roles has led to some equally random experiences - from dancing with Jamie Foxx in a bar I built to getting Chadwick Boseman to quote Jaws in a Wakandan accent, my (aforementioned) mother stealing Mila Kunis' shoes at the Black Swan premiere and me forgetting to order Nile Rogers an amp for a live performance.
But I'm not here to talk about any of that. Yet.
I instead wanted to talk about some of the synergies I came across at Cannes Lions this year in relation to entertainment.
If you know anyone who attended this year, I'd say the general vibe was 'whelmed'. No one was particularly under or over, just… whelmed. So you had to look hard to find relevance and value, and I found mine in three talks.
Ryan Reynolds (Maximum Effort), Ted Sarandos (Netflix) and Activision. Experts in three shades of entertainment who all explored different things, but found common ground. That common ground is something we talk a lot about at Amplify - blurring the lines.
Reynolds spoke about his approach to making sure products are key characters, almost 'talking parts' in their ads. By not shying away from it and instead being overt about product, allows them to be entertaining rather than manipulative. He literally lived this approach by 'stealing' the Deadpool costume from set knowing he'd want to create viral bits and teaser content wearing it, world building around the character and not only blurring the lines of fantasy and reality, between film star and marketeer, but also of Ryan Reynolds and Wade Wilson.
Netflix is on the way to creating a cheaper subscription option that includes advertising. Sarandos referenced the old VHS style advertising where you would see an ad before a feature film that was bespoke to that feature. For example if you were to purchase the VHS copy of Top Gun you would find a literal Pepsi x Top Gun ad rolling before the film. He indicated this is a similar model to how they will approach advertising on their platform. And personally I'd be excited to see an ad play before Ozark of Marty Byrde selling Macbooks, or a pre Squid Games ad about health care. An example of blurring the lines between advertising and IP, serving up tailored content.
And lastly a personal highlight was Fernando Machado and Pelle Sjoenell from Activision talking about their approach to not interrupting game play through marketing, but to elevate it. They gave a number of examples of how they ensure they keep players engaged through contextual marketing and one in particular being Heinz Hidden Spots, an idea based on the insight that most players die in-game while trying to have a bite to eat. So they created a community-fueled approach where players shared hiding spots in maps during games, which were safe for them to park their character and have a snack.
Speaking of snacks I need to go get some lunch, but if LBB will have me back next month I will be chatting again about the world of entertainment and the lines we can draw with our own industries.
​Alex Wilson is executive creative director at Amplify.
Brand Experience Agency of the Decade