Campaign Experience Awards winners 2023: Best Sustainable Event/Brand Experience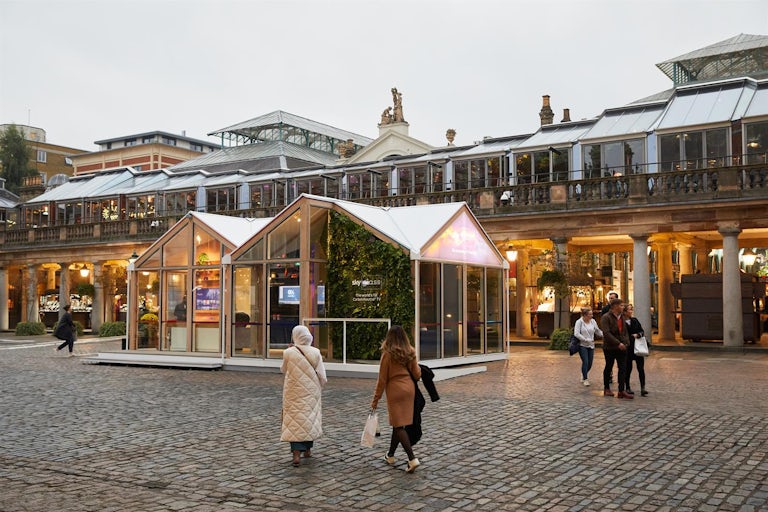 The winner in this category is Sky House of Glass by Amplify for Sky.
Published by: Campaign
Date: 30/03/2023
For more than 15 years Sky has been committed to reducing its impact on the environment through its #GoZero strategy, which led to the creation of Sky Glass; the world's first CarbonNeutral® product certified TV.
But the brand still wanted to pioneer a blueprint that would deliver sustainable Sky brand experiences while maintaining high-quality production values and bringing an engaging experience to people across the UK. Sustainability was at the core of the Sky House of Glass campaign; from design to materials and from production to touring.
To emphasise this, there were four key sustainability targets. The first was to remove, reduce and offset all emissions generated to deliver Sky's first CarbonNeutral® event certified roadshow. Secondly, it would minimise waste and focus on preserving the value of materials and assets. The roadshow would be designed on the principles of circular economy. Third was to achieve a zero-waste roadshow by reducing and diverting 100% of waste from landfill, and finally the aim was to select partners that hold sustainable, diverse and ethical sourcing practices and to work with like-minded suppliers.
The campaign was successful in achieving all four objectives, demonstrating a reimagination of how experiences are designed, deployed and measured to redefine sustainable brand experiences and the way that brand experiences impact the world around them.
Shortlisted:
Bombardier Launch Sustainable Vision @ EBACE by 2Heads Global Design for ​​Bombardier
TikTok MENA Creator Hub by Team 71 for TikTok
To read the full article visit Campaign.
Brand Experience Agency of the Decade