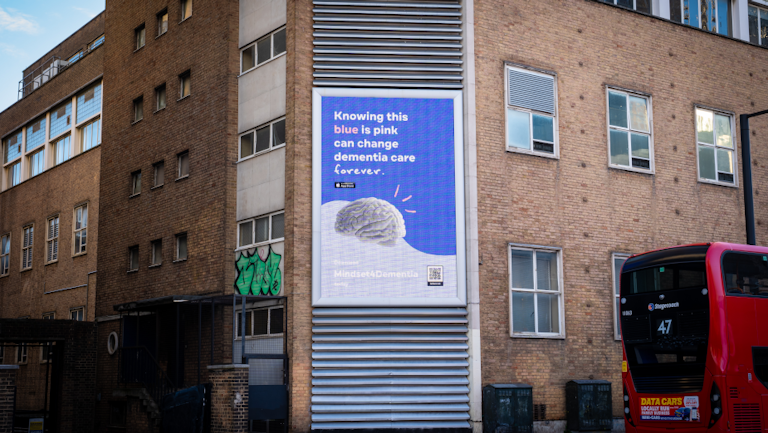 Amplify + Mindset4Dementia
Campaign encourages people to download the app + assist in training its AI to improve its efficacy as an early dementia diagnosis tool...
Published on 18th November 2020.
Amplify (the marketing agency that joins the dots between people, brands and culture) has teamed up with Mindset4Dementia (a group of young doctors pioneering an AI-driven dementia detection app) to create an eye-catching campaign that encourages people to download the app and assist in training its AI to improve its efficacy as an early dementia diagnosis tool.
The DOOH (digital out of home) campaign capitalises on free media space across London, Manchester, Newcastle, Birmingham and Gypsy Corner, as donated by London Lites and Ocean Outdoor, and is based around the overlooked statistics that stem from undiagnosed dementia sufferers.
The campaign's animations and stills draw attention through stark brain imagery on bold backgrounds surrounded by shocking facts – such as '30 million patients don't receive the dementia care they need' – or calls to action that explain how easy it is for people to help train the Mindset4Dementia app in just four-minutes.
The messaging covers the tasks people face in the app, challenges them to get involved and highlights the impact lockdown can have on people getting the right care at the right time. In keeping with the app's simplicity, all information is presented in the most accessible and graspable way possible. Each ad also includes a QR code to aid seamless downloading of the app.
Amplify devised and delivered the campaign on a pro-bono basis.
Mindset4Dementia's founder, Hamzah Selim, said: "We needed to take our message to the British public. We knew that finding the right partners would make all the difference. We were thrilled when Amplify said they'd work with us. This is a world-class agency who have worked with some of the biggest brands on the planet. To be able to draw on their expertise, given what we're trying to do, is huge.
"Dementia affects 850,000 people in the UK alone and that's set to grow to 1.6 million by 2040. At this moment, it's the leading cause of death in this country. In response to this massive challenge, we're calling on the British public to download the Mindset4Dementia app to join our fight against dementia. The more people that download the app, the better our AI technology gets at spotting the disease.
"We're proud to have such strong partners helping us communicate this crucial message to the public. We're also extremely grateful to Ocean Outdoor and London Lites. Thanks to them, we have billboard space in Birmingham, Manchester, Newcastle and London to bring Amplify's amazing creative work to life. Together, we can reach the whole nation and change the lives of millions."
Amplify's creative director, Ben Peckett, added: "Mindset4Dementia is a great initiative that uses AI to improve dementia diagnosis and care. And it's been developed with clarity of thought and human interaction at its heart. In keeping with this ethos, we didn't need to get cute with copy or sensationalist with headlines. We just needed to open the door to a simple exchange with the audience and convince them that four-minutes of their time with the Mindset4Dementia app has the potential to help millions of future patients receive better care."
To read the full article, head to Little Black Book
Brand Experience Agency of the Decade