Amplify creates Fortnite + Netflix experiences as it restructures creative team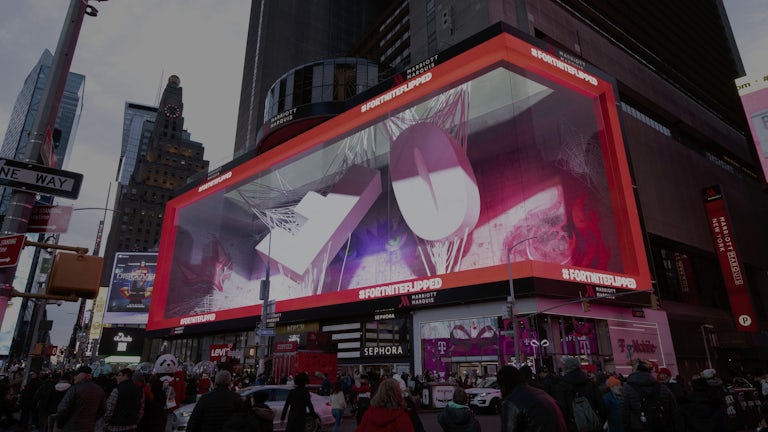 The agency named founder Jonathan Emmins global CEO + Jeavon Smith as global chief creative officer...
Published by: AdWeek
Written by: Stephen, Lepitak
Date: 07/12/2021
With campaigns to promote gaming platform Fortnite and Netflix series Money Heist having just been released, culture and experience creative agency Amplify has made several senior promotions, including Jeavon Smith being named as its global chief creative officer and founder Jonathan Emmins becoming global chief executive.
With the business winning 24 new contracts over 2021 across France, Australia, the U.S. and the U.K.—which has included a Mitsubishi TV campaign, a live-streamed concert experience for Lady Gaga for Westfield, an anamorphic billboard to promote Amazon's series Wheel of Time and a global campaign for Pinterest—Amplify has recorded its most successful year in terms of revenue generation.
This has led to the need for a restructure within its creative team, including several promotions and 12 hires.
Smith, who was formerly executive creative director (ecd), will become responsible for the global creative output at the agency. The ecd post will be taken over by Alex Wilson, formerly head of content. Alex Smith has been promoted to creative operations director.
Other internal promotions include Vicky Baker to creative director from associate creative director, Sandra Suchoka Silva to design director from senior designer and Catarina Velasquez Gonzalez becoming a senior 2D designer.
A home for creative people
"We've had a pretty amazing few years in terms of the scale, breadth and the kind of work we're doing. We've set up new offices and we've brought on new agencies," Emmins told Adweek.
"This is a structure that is allowing us to do the best work we can. I think we've always tried to be a home for creative people and clients and just as we've been elevating and doing that we've got amazing talent coming through and amazing talent coming in. It's just been a real nod to the creative work we're doing, which has expanded, particularly since Jeavon came on board four years ago."
The agency has also recently made 12 new hires across areas such as design, content and creativity internationally.
"The lines have been blurring. That's been a trajectory we've been building towards for the last five years," added Smith talking about the evolution of digital experiences entering the real world and the skill sets needed to realize them. He added that this trend has been on "a trajectory" as a result of the pandemic and the agency is seeing some "interesting" developments in the space.
He described the experience of those joining, from sculptors to photographers, designers and integrated creatives, as "that next wave of talent that is going to drive Amplify to the next level."
Jeavon added that the agency has agreed to offer "a real commitment to young talent" which has faced a difficult period during the Covid-19 pandemic in terms of finding work. "I think just how remarkable young talent can be but also what a rough ride people in that space have had over the last 18 months, at least with graduating and whether there were jobs or opportunities."
Experiences for Fortnite and Netflix
In recent weeks the agency has also released two major entertainment experiences. One was for Epic Games' title Fortnite which saw the agency team with Inertia Studio to launch billboards for the launch of the third chapter around the world. Featuring anamorphic billboards in major cities such as Tokyo, London, New York and Stockholm, the activation was promoted by local influencers using #fortniteflipped and featured imagery of the game's logo scattered across the world as players were lost at sea waiting to reach a distant island ahead of them in the next section.
The hashtag was a top trending subject on Twitter globally as the game went offline on Dec. 5 for the entire community, returning online 18 hours later.
Meanwhile for Netflix, to promote the final season of Money Heist in Madrid, a talk-show format event called "La Casa De Papel: El Legado" ran in 10 languages featuring the actors and creators from the show.
And on Nov. 28, a hybrid YouTube game show called The Biggest Fan put Money Heist superfans in a head-to-head competition with one winner to see their profile featured across an OOH campaign in Paris to promote the release of Season 5 Part 2.
The competition was promoted through a TV, press and social campaign, with the winner also taking part in the talk show after being flown to Madrid. The show reached 2 million views from across 187 countries.
"That's the really exciting thing right now and what the restructure really points to for us is that we are a global creative agency that specializes in experience and culture but that can take you anywhere in terms of channel mix and ultimately how we engage an audience," said Smith.
To read the full article, head to Adweek
Brand Experience Agency of the Decade