Amplify comments on when Banksy came to Croydon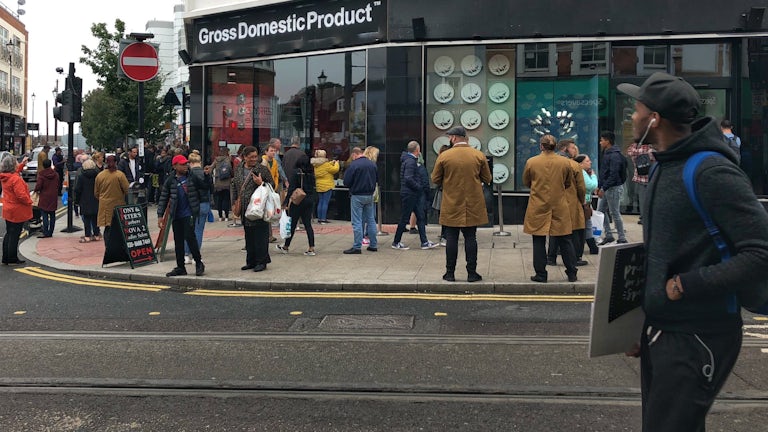 Banksy's 'Gross Domestic Product' pops up in Croydon...
Jeavon Smith provides insight, alongside other industry experts. Published on October 3rd 2019.
As Banksy's satirical painting of chimpanzees running parliament hits the auction blocks at Sotheby's tonight, over in Croydon his "Gross domestic product" store – featuring a Union Jack stab vest à la Stormzy, a Tony the Tiger rug and other "offensive and impractical items" made from recycled materials – continues to draw the crowds in.
Created in an alleged reaction to an ongoing trademark feud with an undisclosed greeting-card company, the installation features the hallmarks of Banksy's previous works, with statements on migration and surveillance state all evident in the items on display. With all sales being made online, what did UK experience creators make of Banksy's latest crowd-pleaser?
Catherine Borowski | Founder, Produce UK; co-founder, Skip Gallery
I love the fact that Banksy has chosen Croydon for the opening of his shop. For years, Croydon has been seen as the poor relation to London proper. Almost a joke. Banksy's work is usually highly site-specific and strong on narrative, so I'm secretly hoping that the derelict site that he's taken over is next door to the mystery card company. Or that they're located in the close vicinity.
James Benenson | Managing director and co-founder, Urban Nerds
With Stormzy's Banksy-designed stab vest taking centre stage at this pop-up, at face value it makes sense that the artist has chosen the rapper's home town for his typically renegade retail concept. And Banksy deserves credit for his commitment to creating artistic satire that's unafraid to confront controversial socioeconomic issues.
Jeavon Smith | Executive creative director, Amplify
Art galleries are evolving. Once a place associated with restriction (no photos, no late entry), they're becoming more democratic, as they are curated to become experiences we now capture and share.
Whilst there's an underlying legal dispute, Banksy's pop-up does what so many galleries are looking to do today – create a content engine. Typical of the elusive artist, a disused shop window in Croydon may not look or feel like a gallery, but it's enabling the world to immediately access and share the work in a way that makes it undeniably Banksy. As ever, it's brilliant.
Simon Labbett | Executive creative director and founding partner, Truant
This feels like a strange move for the grand master of guerrilla art and arguably the world's most influential anti-establishment flag-bearer. This could be the first time we've seen Banksy abide by the rules of business and adhere to the advice of authority. Why does he give a fuck about copyrighting his name and the money that goes with it? The real value is in the nature of what he does: the abrasion, the tension, the timing, the political statements. This is what keeps us intrigued. He's never been about selling his work, hence the (albeit glamorous) stunt of shredding a piece of his art at Sotheby's. I'm hoping this is a double bluff. Please don't disappoint us, Banksy. You don't need to own the copyright to your name. You're way bigger than that.
Theo Gentilli | Director, Warm Street
It's fitting that Banksy, a mainstream artist straight outta underground street culture, chose to open his shop in Croydon. From the emergence of dubstep to its pivotal role in grime's explosion, Croydon has been an underground launchpad for some of Britain's largest mainstream stars. Croydon is now more than ever a hotbed for emerging creative talent; beyond obvious examples like Stormzy, artists like A2, Hardy Caprio, Nadia Rose, SL and Yung Fume set the tone for a talented new generation putting Croydon on the map and who can take inspiration from Banksy's shop. Don't bend to the system, don't corrupt your artistic integrity and never stop creating.
Read the full article at Campaign
Brand Experience Agency of the Decade